The increase in vaping-related illnesses – known as e-cigarette or vaping product use-associated lung injuries (EVALI) – prompted the FDA to officially ban flavored e-cigarette pods in January 2020. However, this move is only one step toward holding e-cigarette manufacturers like Juul accountable for a decade's worth of questionable marketing practices. As of February 18, 2020, the Centers for Disease Control and Prevention has reported 2,807 hospitalized cases of EVALI and 68 confirmed deaths.
Massachusetts, Pennsylvania, Illinois, California, Mississippi and the District of Columbia, along with individuals and school districts, have started filing lawsuits against Juul. Why this manufacturer in particular, among hundreds of other brands?
Juul's Role in the Crisis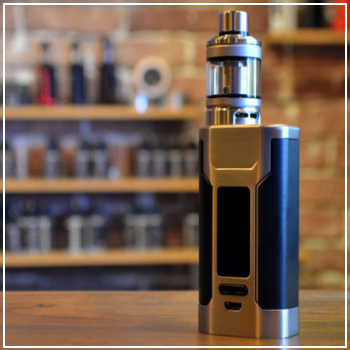 The California-based company is behind 75 percent of all e-cigarette sales in the US and also has a strong global presence. Beyond the numbers, documents indicate that Juul specifically targeted minors from 2015 through 2017, more so than other brands. Banner ads promoted its products on teen-oriented websites and used influencer marketing aimed at younger consumers.
At the same time, schools and communities have picked up the slack financially, partially due to Juul's actions. Although fewer teens now smoke tobacco-based cigarettes, a visible percentage have vaped within the past 30 days.
Compared to competitors, Juul's products contain a higher percentage of nicotine than traditional cigarettes. In response, schools have had to implement monitoring plans to detect e-cigarette usage and response plans to handle nicotine poisoning – money that could have been spent on instruction and supplies.
The EVALI increase is a culmination of 10 years' worth of marketing e-cigarettes as smoking cessation devices, based on the falsely researched claims they are less harmful than traditional cigarettes. With litigation against Juul coming from multiple sources, here's what could happen to the vaping industry.
Bound to Tobacco Industry Restrictions
For a time, there were no age restrictions on e-cigarettes. As a result, it was perfectly legal for anyone under 18 to vape, provided a community or school did not implement its own age limits. Due to these factors, e-cigarette manufacturers could market their flavored pods to teens.
State and community lawsuits in Massachusetts and Pennsylvania have gone after Juul's advertising practices. In Massachusetts, Attorney General Maura Healey filed a lawsuit against Juul and former parent company Pax Labs, alleging in a 66-page document that the defendant intentionally targeted minors with multiple marketing campaigns:
The VaporizEd campaign, featuring younger models and celebrities vaping.
Influencer marketing, involving 500 social media influencers and celebrities like Miley Cyrus, Cara Delevingne and Kristen Stewart, to promote the fruit-flavored pods online.
Purchasing advertising space on teen-oriented sites. As a result, websites like Nickelodeon, Nick Jr., Cartoon Network, Seventeen Magazine, Teen, College Humor, College Confidential, Just Jared Jr. and even educational websites displayed banner ads from 2015 through 2016.
Juul allegedly emailed minors with similar campaign messaging from 2017 through 2018.
The #DoItForJuul social media campaign encouraged teens to post pictures of themselves using Juul e-cigarettes.
Marketing claims, on their website and through in-school anti-smoking campaigns, falsely touted the product as a safer, more health-conscious alternative to tobacco usage.
Compared to other e-cigarette brands known for pen-shaped devices, Juul's smaller, easy-to-disguise devices that resemble USB sticks appealed to teens.
In Pennsylvania, a state-level lawsuit against Juul makes similar allegations about marketing and further requests a statewide ban on all Juul products. Locally, counties are also going after businesses that fleshed out the pipeline to teens. In Bucks County, just north of Philadelphia, plaintiffs claim that Juul, Eonsmoke and a few local gas stations marketed and directly sold e-cigarettes to minors and those practices violate state consumer protection laws.
Should the plaintiff win, the reward would go toward improving tobacco education programs, studying the effects of e-cigarette usage and improving addiction treatment in schools and the community.
In response, Juul steadfastly insists it only ever marketed its products to adults. However, a Reuters investigation disproves these assertions, showing the company started receiving requests from teens as far back as 2015 but did not take action to curb their marketing efforts until 2018.
No Claims Vaping is Safer Than Smoking
The US Federal Trade Commission has also been investigating Juul's marketing practices outside of the states. Toward the end of 2019, the FDA sent a letter to the company about its campaign messaging. As these investigations and lawsuits progress, Juul and other manufacturers may no longer be able to claim:
E-cigarettes are smoking cessation devices. For years, companies claimed that avoiding tobacco, tar and other carcinogens made e-cigarettes safer and could therefore help traditional smokers quit. However, research has shown that a single Juul pod contains more nicotine than a standard pack of cigarettes.
"Pending FDA approval" for smoking cessation has been used for some marketing efforts over the past decade. Not only has the FDA started restricting the production and sale of e-cigarettes, but the government organization has never approved it as a smoking cessation device.
Juul won't be able to directly campaign in schools. In response to multiple complaints, the US House Committee on Oversight and Reform started looking into Juul's school presentations, in which company representatives would tell students vaping is "totally safe." Due to the higher concentration of nicotine and absence of a filter, certain lawsuits claim that Juul's products are specifically more dangerous than traditional cigarettes.
Manufacturers Need to Address Deceptive Practices
As the lawsuits mount against Juul, individual and school district lawsuits have been consolidated into a couple multidistrict litigation lawsuits in California. Among the plaintiffs are some of the state's largest school districts, including Los Angeles and Anaheim Unified School Districts.
Although the plaintiffs have different reasons for filing, all want to hold Juul accountable for years of deceptive marketing practices that have resulted in more teens getting addicted to nicotine, adults and teens coming down with mysterious, unexplained health issues and school districts shouldering the cost of anti-smoking efforts. Among the issues cited:
School districts are having to control and reduce vaping-related issues without any financial assistance, including high levels of absenteeism, implementing detection and monitoring systems, and hiring support staff to help students currently battling nicotine addiction.
Addiction among youth and adult populations has increased, with adults looking to quit smoking getting addicted to Juul and one out of every five high schoolers vaping at least once. While the company long marketed their products as "safe" compared to tobacco, a single Juul pod contains 59mg/mL of nicotine – more than the 6 to 30mg/mL found in other pods.
Along with EVALI, adults and teens have experienced seizures and strokes after regularly using e-cigarettes marketed by Juul. The chemical flavorings may be partially responsible for the lung and cardiovascular damage some individuals have experienced.
Since lawsuits have been consolidated, Juul has claimed to be working with regulators and attorney generals to retool the design and marketing efforts for their products. However, court documents show that, up to this point, Juul sought to emulate big tobacco's advertising methods to get consumers hooked on their product.

Did you start using e-cigarettes based on the marketing claims, only to find yourself battling addiction? It's time to hold Juul and other manufacturers accountable for years of deceptive advertising. Bring your claim to one of Trantolo & Trantolo's product liability lawyers today.