The app is barely a few months old, but its use behind the wheel is already responsible for multiple car accidents that put both drivers and pedestrians in danger. Although a few hoaxes have been reported, including an alleged pile-up found to be false, the game illustrates what can happen behind the wheel when the driver isn't giving his or her full attention.
Multiple Car Accidents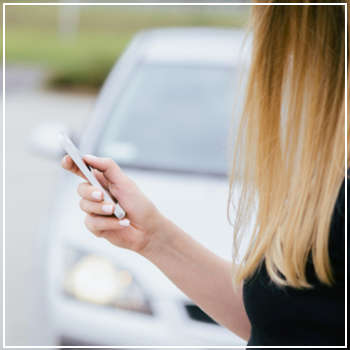 In Auburn, New York, one driver playing on his phone was so distracted that he slammed into a tree. Fortunately, while his car was totaled, he only had to go to the hospital with minor leg injuries.
However, an analysis of the scene shows the accident might have been far worse. This driver was extremely lucky. Accident reports reveal the engine started falling into the passenger compartment, where it could've caused far more harm to the driver.
In two other separate instances, drivers became distracted to the point they collided with police cruisers. A man in Baltimore crashed into a RAV4, which was caught on video by an officer standing near the vehicle. Up in Canada, two drivers played the game from behind the wheel, only to back into a police car in the process. In both cases, none of the officers or motorists were harmed.
Pedestrians can also become distracted by the game. If crossing into a busy intersection, they put themselves in harm's way. In one situation, a 15-year-old in Pennsylvania had been playing the game when she walked onto a highway without looking at incoming traffic. Because a motorist wasn't expecting a pedestrian to be crossing at this part of the highway, she ended up experiencing collarbone and foot injuries.
Consequences
According to the AAA Foundation for Traffic Safety, distracted driving is responsible for roughly 16 percent of all fatal crashes, which amounts to 5,000 deaths per year. For a few decades, deaths attributed to distracted driving were on the decline, but in recent years, figures have shown an uptick.
The organization believes that this increase can be attributed to cell phone use behind the wheel. For instance, a survey they conducted shows that 90 percent of individuals know that texting and driving is dangerous. Yet, 42 percent of drivers admit to doing it over the past month. That figure doesn't include those who have answered a call or used an app like Pokémon GO while driving.
To reduce fatalities, states have started cracking down not just on cell phone use, but also texting behind the wheel. In Connecticut, both texting and talking are banned and drivers under 18 years of age are prohibited from any cell phone use – even hands-free operation.
So, if you're caught playing Pokémon GO while driving, you may be:
First offense: Fined $100
Second offense: Fined $150
Third offense: Fined $200
For teens, the penalties are far stricter. In addition to fines:
Your driver's license will be suspended for 30 days and you'll have to pay a $125 restoration fee.
For a second offense, your license will be suspended up to six months, or until you reach 18 years of age – whichever is longer. You'll also need to pay a $125 fee to have your license reinstated.
Car accidents from distracted driving can turn into a long ordeal. Oftentimes, the victim has to haggle with an insurance company for a fair settlement. In the meantime, you lose wages as medical bills accumulate. If you find yourself caught in this scenario, turn to Trantolo & Trantolo. To present your claim, contact us today.