Let's face it: In the age of technology, we're all on our cell phones. Whether it's to text a friend, check social media or send an email for work, Americans young and old often find themselves immersed in the digital world. Although digitization is the new normal, it becomes a problem when our smartphones make us distracted. In particular, when drivers and walkers are distracted, both parties are put in serious danger.
National Safety Council Study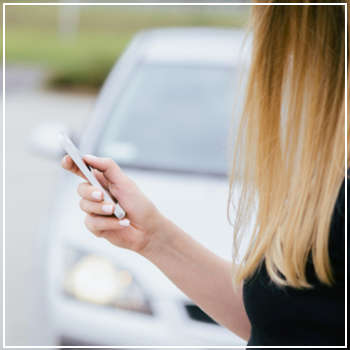 According to the NSC, there were nearly 6,000 reported pedestrian fatalities in 2017. The suspected culprits? Smartphone and marijuana use. Let's look at texting and driving first.
Distracted Driving
Texting and driving has been a serious concern for the past several years. If you take your eyes off the road for five seconds to read or send a text, it's the equivalent of driving the length of a football field blindfolded!
In general, there are laws against using your cell phone behind the wheel – talking, texting and social media use – but many drivers bend the rules. Connecticut is a handsfree state that fines violators, but some people try to multitask.
Distracted Walking
What about texting and walking? Especially in urban settings, there is a chance of being struck by a motor vehicle if distracted. Whether you are crossing a busy intersection with your phone in hand or drift off the sidewalk while reading an email, both parties are at risk of a deadly collision.
Drugged Driving
Operating a motor vehicle while under the influence of drugs is also a growing concern across the US. The latest Governors Highway Safety Association (GHSA) report estimates 5,984 pedestrians were killed in 2017 alone. Particularly in the seven states that legalized marijuana last year and the District of Columbia, pedestrian deaths spiked 16.4 percent in the first six months.
"People outside cars are dying at levels we haven't seen in 25 years," says the author of the GHSA report.
What's the Next Step?
As roadway fatalities in and out of vehicles continue to increase, the search for a solution continues. Unfortunately, new safety advancements made in vehicles (automatic emergency braking, rearview cameras, etc.) have not helped to decrease the number of motor vehicle and pedestrian deaths.
Lawmakers in Montclair, CA recently banned the use of cell phones and headphones while walking across the street. In 2017, Honolulu passed a similar law that fines people for texting while walking.
As the NSC and GHSA studies concluded, drivers and pedestrians have much to consider. To start, we recommend keeping these tips in mind:
About 75 percent of pedestrian fatalities occur at night, so it's important for drivers to make sure their headlights are clean and functioning.
Pedestrians should adhere to the adage "look both ways before crossing the street!"
If you or a loved one has been injured by a distracted driver, Trantolo & Trantolo wants to help you win the compensation you deserve. To speak with a car accident attorney, contact us today.