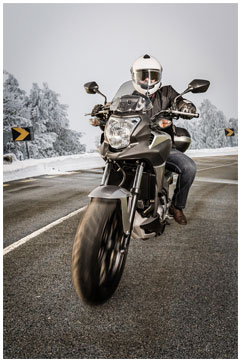 When the temperatures drop, many put their motorcycle away in storage for the next few months. But there are a handful of die-hard riders that continue through the winter season.
Like taking your car out on the road, riding a two-wheeled vehicle through wintry conditions has its pitfalls. However, the risks are often specific: Motorcycle riders are more prone to frostbite and hypothermia and easily find themselves slide into an accident because of snow accumulation or black ice.
This isn't to say that you should stay away entirely. Instead, keep these tips in mind:
Layer Your Clothing and Gear
It's recommended that riders have multiple layers, from base garments through insulation to a wind-proof and waterproof outer shell. As well, skin should not be exposed, and helmets must be full-face and anti-fog to prevent reduced visibility.
Begin with fleece or thermal underwear that's breathable and wicks away moisture to avoid perspiration buildup.
Opt for fleece or wool as mid-level insulation. Depending upon the temperatures and comfort level, you may even want to consider two levels of insulation.
Go with leather or an appropriate synthetic material that keeps you warm in wind and isn't permeable.
Make sure your boots have good grips.
Protect your nape with a neck warmer or balaclava.
Gloves should fit well, have curved fingers, and fully cover the wrists.
Add hand and feet warmers if you think it will be particularly cold.
Prepare Your Ride
Like your attire, your motorcycle needs to repel the wind, and handle the conditions outdoors.
As a general rule, winter riding involves installing a larger windscreen and hand guards. Before you go on the road, check and refill the antifreeze, make sure your hose and radiator are in good condition, make sure your lights work and are clean, and be sure your tires have enough tread and are inflated just enough. Additionally, some experts even recommend thinner oil in colder months – but check your owner's manual first before making such a change.
As well, understand your insurance policy. Not all policies cover year-round or off-season usage. Should you find yourself in an accident, be it with another motorist or resulting from slick and icy conditions, you may not have as much protection as you think.
On the Road
Once you and your motorcycle are ready, it's advised to proceed with caution:
Avoid salt, cracks, and black ice on the road. These can damage your vehicle or, worse, cause you to slip.
Give yourself more following distance. Some even recommend 15 seconds between you and the vehicle in front.
Make sure you're visible on the road.
Because wind can make ice and snow slide off trucks, keep your distance and be alert to any flying debris.
Because snow reduces your visibility and creates slippery conditions, get home right away at the first sign.
As you're on the road, stay within the tire tracks from the vehicles in front.
Accidents still may happen, even when you ride safely. Should you find yourself in this situation, turn to Trantolo & Trantolo. Contact any of our Connecticut offices to have our team of experienced motorcycle lawyers review your case.